Information
Free COVID-19 testing program for returning visitors by Guam Visitors Bureau
Free COVID-19 testing program for returning visitors by Guam Visitors Bureau
2022/8/15News
(excerpt from Guam Visitors Bureau's Website)
The Guam Visitors Bureau (GVB) has partnered with the Guam Department of Public Health and Social Services (DPHSS) to offer free COVID-19 testing for all visitors upon their return home.
Important Notice
These testing sites offer free Covid-19 PCR and Antigen tests.
PCR results will be ready for pick up in 24-48 hours.
Antigen results will be ready for pick up in 30-60 minutes.
Starting on August 10, 2022, the Covid-19 testing sites will provide Covid-19 testing depending upon your destination.
Please ensure that you take your Covid-19 test within the required time frame according to your country's entry protocols.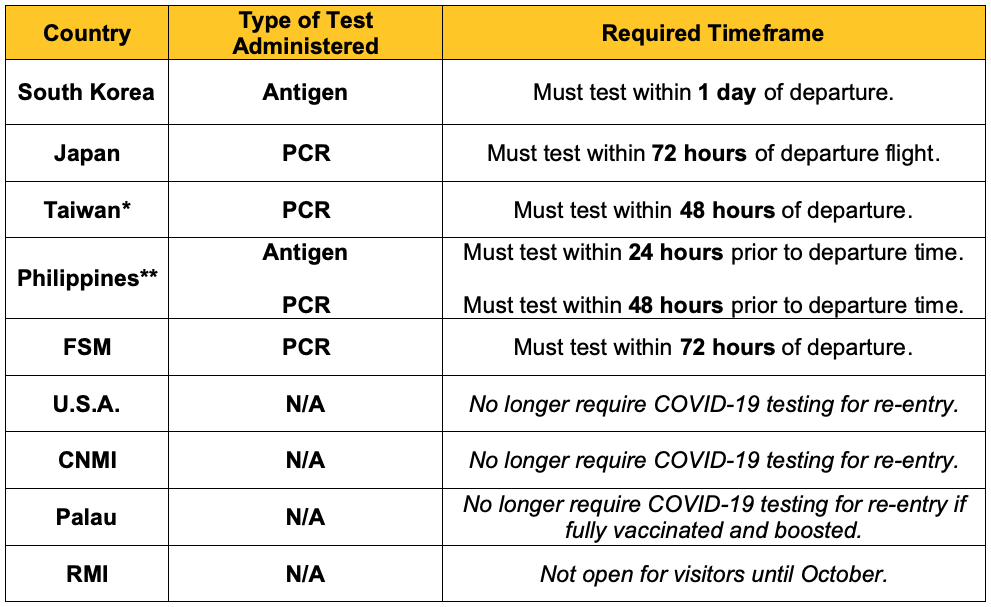 *Effective on July 14, Taiwan does not require a negative PCR test results for Taiwan passport holders, ARC holders, and transit passengers in order to enter Taiwan.
**Covid-19 testing is not required to enter Philippines if traveler is boosted (over the age of 18 years old) or fully vaccinated (12 to 17 years old). Travelers below 12 years old are not required to take a Covid-19 if they are accompanied by a parent or guardian who is boosted.
【Testing Sites & Hours of Operation】
-Hotel Nikko Guam
-The Plaza Shopping Center
-Hyatt Regency Guam
-Pacific Islands Club Guam
-Open daily 9:00am – 12:00pm & 14:00pm – 16:00pm
【Test Availability】
-This program offers PCR tests and Antigen tests.
【Test Results】
-PCR results must be picked up at the location that the Covid test was administered 24-48 hours from the time of testing.
-Antigen results must be picked up at the location that the Covid test was administered 30-60 minutes from the time of testing.
-Results are subject to delay based on laboratory capacity and business hours of operation.
-Tests will be processed during business hours only, which may not include weekends and public holidays.
-It is the responsibility of the traveler to get tested within their required travel window as depicted by their airline and travel ticket.
-GVB and participating clinics will not be financially responsible for: airline change fees, rebooking fees, cancellation fees, other flight arrangements, room accommodations, optional tours, reservations, or lost wages
【Required Documents】
-Each patient must complete the COVID test form.
-Each patient must provide a copy of a government-issued form of identification: passport, driver's license, or birth certificate
*CONFIDENTIALITY NOTICE: The information collected as part of this program is strictly confidential and will be kept solely between the clinic and GVB. Information will not be shared externally.
For more details about the program, please visit Guam Visitors Bureau's website below:
https://www.visitguam.com/covidtest/  (English)
https://www.visitguam.jp/covidtest/ (Japanese)
https://www.welcometoguam.co.kr/covidtest/  (Korean)
https://www.visitguam.org.tw/covidtest/  (Chinese)
※Information on the above link is subject to change without prior notice.
Recent Posts
2022/9/15

2022/8/15

2022/8/15

2022/8/13

2022/6/21
Category